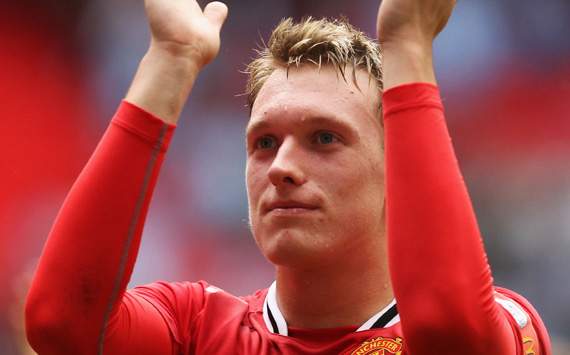 Phil Jones
Manchester United defender Phil Jones is hoping to bounce back from narrowly losing out to local rivals Manchester City in the Premier League title race by regaining the trophy next season.
The 20-year-old thought that the Red Devils had done enough to win the title in dramatic fashion before City's late comeback to beat QPR saw them finish first, and the youngster is looking to build on the experience.
"It was mixed feelings at the final whistle," Jones told the club's official website. "I thought we'd pulled off the impossible at first, we thought QPR had done us a massive favour with a difficult task of going to the Etihad [Stadium]. But then City scored two goals in quick succession and that killed us.
"I'll take that on board with what I've learned this season. It's been a massive learning curve for me and I've played a lot of games this season and I've really enjoyed playing."
The former Blackburn defender has conceded that dramatic turnarounds are a part of the game and also believes that he has improved as a player during his debut season at Old Trafford.
He added: "Of course, that's football. Things like that can happen and we've perhaps been a bit unfortunate this season but so be it. City have won it this year but hopefully we'll be back next season, fighting and ready to go again.
"It's been a whirlwind season for me. We've been unfortunate with injuries this season which has probably enabled me to play more games than I expected.
"I've really enjoyed it and I feel like I've really progressed and come on as a player. It's a massive learning curve for me. Being at United in my first season has really given me an insight into the passion and drive the club has.
"The history speaks for itself and we'll do it the United way, we'll bounce back and we'll go again next season."