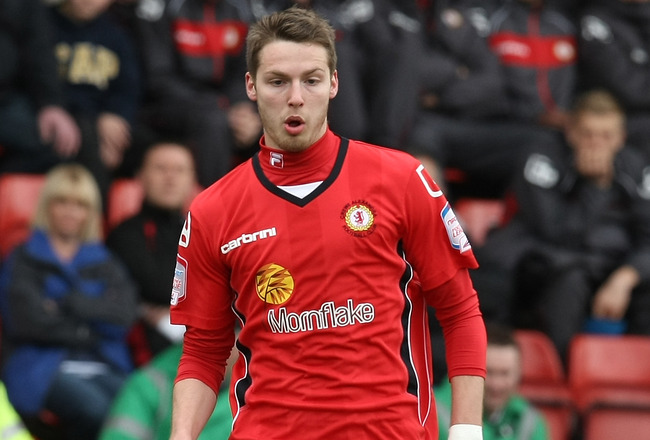 Nick Powell
With 18-year-old star Nick Powell set to make his last appearance for Crewe Alexandra on Sunday, news continues to heat up regarding where he may transfer. There is no question that the current leader in the clubhouse appears to be Manchester United.
According to Neil Moxley of the Daily Mail, the Red Devils are prepared to offer the up-and-coming midfielder a $4 million deal as early as next week. Alexandra hasn't been beaten in 18 straight English League Two contests, and Powell is a big reason for that.
Crewe only finished seventh in the regular-season standings thanks to a rocky beginning to the year, but Powell has been absolutely fantastic as of late in leading them to the league final against Cheltenham. Powell's 14 goals on the season lead Crewe by a large margin, while his seven assists are third on the squad as well.
There is a belief that Powell is the best English prospect to surface in years, and because of that Man U needs to strike quickly. Regardless of the Red Devils' late-season struggles that allowed Manchester City to capture the Premier League title this season, Manchester United still is and always will be considered the pinnacle of English football.
If Powell develops into the type of player that so many expect him to become, then Man U absolutely must have him. Manchester United is equivalent to American sports teams like the New York Yankees, Los Angeles Lakers and Dallas Cowboys. Great players are simply that much better when the they play for those teams, and that would be the case with Powell and Man U.
The Red Devils' midfield is already fairly stacked with the likes of Antonio Valencia, Nani, Ryan Giggs and Ashley Young, but it never hurts to add talent. Perhaps Powell wouldn't play a ton right away, but since he's only 18 years of age, that shouldn't be an issue. Even if he needs a year to act primarily as a substitute, it will be good for him and Man U in the long run.
If Manchester United is going to continue to remain at the top of the EPL, then it needs to stockpile young talent like it always has. If the Red Devils allow competing teams like Man City, Chelsea, Arsenal or someone else to nab a potential superstar like Powell, then they'll be kicking themselves for doing so for the foreseeable future.
Powell has improved steadily and noticeably over the past couple seasons, and if his upward trend continues, then he may very well be one of the Premier League's best players in just a few years. There is something to be said for pursuing established players, but the biggest wins often involve getting a young player at a fairly low price.
Provided Powell becomes the player that he should, the price tag that Man U seems likely to pay will ultimately be a bargain. Every young, English soccer player likely dreams of playing for Manchester United one day and it appears as though Powell may have that chance. The Red Devils just need to ensure that they can secure him.
Follow @MikeChiari on Twitter.