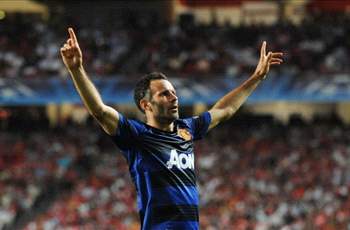 Ryan Giggs
Manchester United legend Ryan Giggs has praised his side for their form against London clubs last season, after seeing the Red Devils keep a near-perfect record against the teams from the capital.
The 3-3 draw against Chelsea on February 5 was the only occasion when United did not take full points from their 10 games against London-based teams in the Premier League, and the Welshman noted that success as a key part of their title challenge, which lasted until the final day of the season.
He also singled out the 8-2 victory over Arsenal in August as one of the highlights of the campaign, adding that such an emphatic win over rivals is always special.
"As a team performance you've got to look at the Arsenal game when you're talking about highlights," Giggs told the club's official website.
"To score eight goals against a team that has been one of our biggest rivals for so many years is something special.
"Our form in London – I think we won nearly every game there apart from Chelsea – was very pleasing."
He also claimed that, despite the Chelsea result being the only blotch on their record, the performance was as impressive as any win, after United came from three goals down to rescue a point in an inspired revival.
"Again, that was against one of our rivals from the last few years, and at Stamford Bridge where we haven't had a good record over the last 10 years," Giggs reflected.
"We came back and we kept the belief, and we were probably unlucky not to win it in the end. There were so many great performances like that during the season."